How to become twice the IT consultancy you are today
Common to all Sigma companies is the aspiration to always look forward, see potential for improvement and find solutions which make the world that little bit better. In a traditionally male-dominated industry, we at Sigma are constantly working to attract more women to the IT world. Because our aim is to make a better tomorrow for customers and people around the world, it is simply not an option to draw on the ingenuity of just half the population. Too many perspectives and ideas go to waste.
Post

| 2018-03-08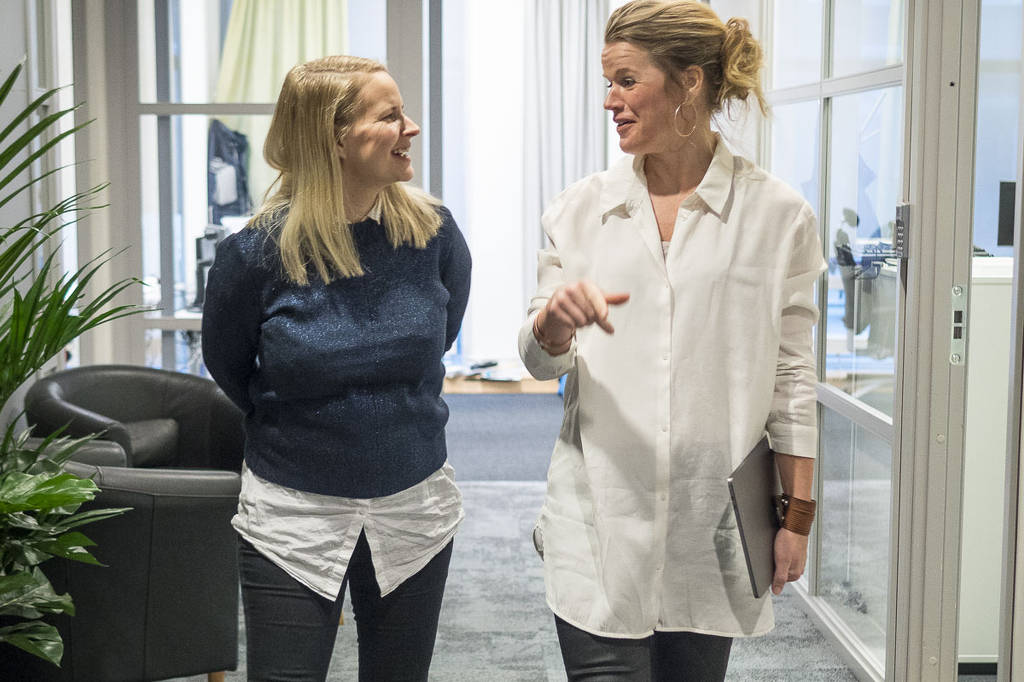 It is a constant struggle to transform and bring equality to unbalanced industries. At the same time, it is a rewarding one; one which, when it is overcome, has a multitude of positive effects. Sigma operates in a male-dominated field and is very aware of how hard it is to find a balance among the employees. A company can achieve a great deal; not only within its own confines, but also in the schools that teach our children and young people. Naturally, companies have limited influence there, but it is absolutely necessary to cooperate with schools, universities and university colleges. Because we still have a long way to go. Today, women are still a minority among students completing their studies and graduating as programmers. And when the qualified workforce in the sector is this skewed, balancing efforts must begin at a much earlier stage. Many Sigma companies are working with an equality agenda, and one of the companies which has taken a number of innovative initiatives is Sigma IT Consulting in Göteborg. To find out a little more about their work to improve this balance, we head to their office on Lindholmspiren in Göteborg.
After a short tour by boat from central Göteborg to the city's new centre for innovation and technology, we enter Sigma IT Consulting's office where we are greeted by Annica Sunnman. Annica is Consultant Unit Manager and Business Line Manager for Java at Sigma IT Consulting. We get right down to business, and when asked why more women are needed in the IT sector, she replies that there are a number of reasons, such as the enrichment of solutions delivered to customers. "There is no immediate difference in how men and women write code. But it is common knowledge that the better the diversity, the more new ideas and individual approaches there are, which is enriching for our entire operation," Annica explains. "And the differences in our team have more to do with personality than gender," she continues. Another important reason for Sigma wanting to recruit more women is the need of more IT expertise. "We have a constant and urgent need for IT consultants and we need to work consciously to get more women to choose our sector," say Annica.
"There is no immediate difference in how men and women write code. But it is common knowledge that the better the diversity, the more new ideas and individual approaches there are, which is enriching for our entire operation."
One very timely initiative is the non-profit association Kodcentrum, which was founded in 2014. Their coding groups or "kodstugor", which are located in eight different cities, introduce digital creation and programming to children aged 9 to 13. They are run by volunteers and sponsors, and the coding group on Lindholmpiren in Göteborg has been realised with support from Sigma IT Consulting. Many of the volunteers are also employees of Sigma IT Consulting.
There is a knock on the door and Alexandra Stockman enters. In addition to being a Java Consultant, Team Lead and Talent Scout at Sigma IT, she is also one of the driving forces behind Pink Programming Sundays, which is held at Sigma IT Consulting. Pink Programming is also a non-profit association aimed at inspiring women and young girls to start programming. Meetings are often at Sigma's office on Lindholmspiren, an inspiring environment where women and young girls interested in programming can feel at home and have fun, whilst at the same time learning to code. Here they find female role models, and all supervisors and inspirational speakers that visit are women who work as programmers themselves or who are in some way linked to the sector.
This very popular Sunday activity is intended for both experienced developers and those with no previous experience. "We have 40 places and every Sunday we're fully booked. And we have the same number on the waiting list every weekend," Alexandra says proudly. "Our youngest attendee is 16. Some of them are completely new to the area and have never tried programming; others have just begun. But there are also some slightly older and already professionally active women, so it's a great mix of personalities and expertise," Alexandra continues. Sigma has a clear agenda and prioritises issues and initiatives that can bring greater equality to the IT sector. Sigma was one of Pink Programming's first main sponsors. Today, they share main sponsorship with Volvo.
Alexandra is truly passionate about programming and about the need for more women in the IT sector. "When I started university, I barely understood what programming was, but I was completely fascinated by it. You can create anything," Alexandra explains enthusiastically.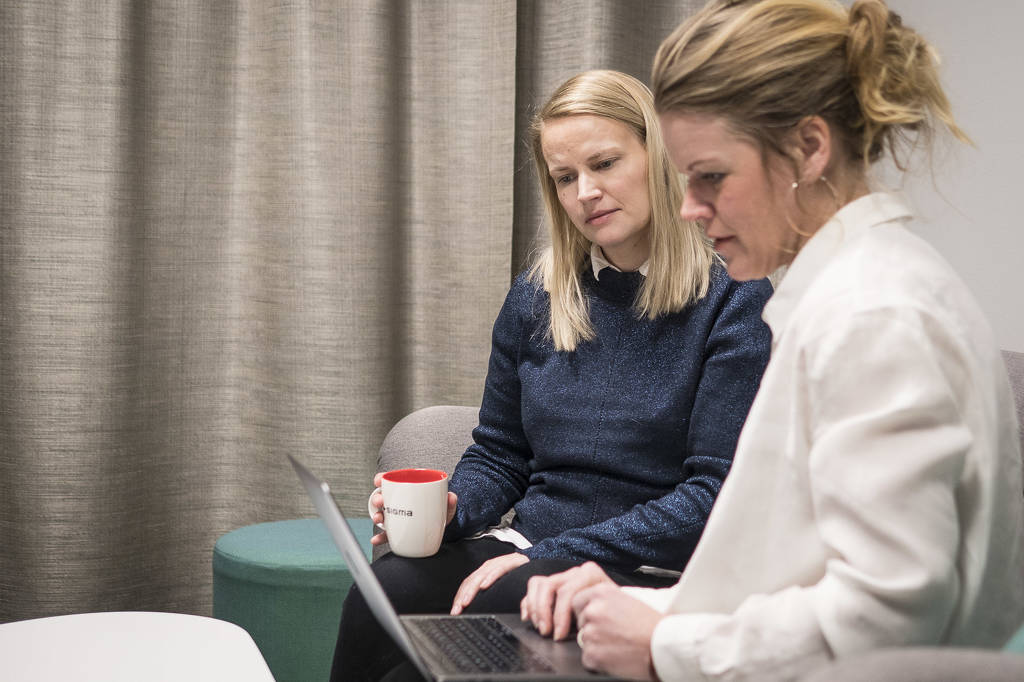 "Our industry is the future, and it will have such great potential as a means to influence our society. Not having more women on board in this development is simply unacceptable."
Some universities have mentoring programmes aimed at increasing the proportion of women completing their studies and graduating. At these schools, many express feelings of alienation and being alone, which these mentoring programmes are intended to remedy. It is also important to maintain the sense of community in the workplace, and Sigma IT Consulting has understood the importance of female networks. "Our networks and events, such as Sigma Smart Women Society, are important for solidarity, especially for those of our consultants working on location with customers," Annica explains. SSWS is not just for Sigma's female employees. It is a female network with regular meetings with the goal to inspire, develop, strengthen communities and create contacts between women working with IT and technology. "With SSWS, we want to show that this is an industry of the future and that women are needed here," says Annica. Today, we have the challenge of finding female programmers above all. Considering that only 10 % graduate, this is a tough challenge.
The proportion of women working at Sigma IT Consulting as a whole is 26 %. This may sound low, but it is actually quite a high figure in the IT sector. But a figure which absolutely must increase!
Annica feels that new ways of attracting even more women to the sector are needed. One example is formulating job advertisements so that they communicate even more clearly the importance of women being a part of the future of IT. "And we really need to be better at getting across the message of what a stimulating and creative job it is," Alexandra adds. "There are new challenges all the time and I can honestly say that the opportunities open to me when I go to work in the morning are endless," she continues.
We thank Annica and Alexandra for giving us an insight into their exciting work and the great responsibility taken on by Sigma IT Consulting in trying to attract more women to what is a very important sector for future development. "To promise customers and society a better tomorrow, we need a good, diverse mix of people. And if we can also encourage the female half of society to join our sector, we will be twice the IT consultancy we are today," Annica concludes, just as our visit comes to an end and we prepare to take the boat trip back across the river.