Sustainable construction in wood – a building material that is showing new growth
The fact that there are passionate employees at Sigma is nothing new for anyone who has ever had the opportunity of working with them. And right up in the north of Sweden there is a group that is really passionate about spreading knowledge and inspiration about wood as a building material. At Sigma Civil in Umeå, they are doing innovative research on the possibility of using wood as a building material, instead of concrete and steel. They don't shy away from the challenge of doing things they have never done before. Building big and building tall with wood is a challenge that they have taken seriously.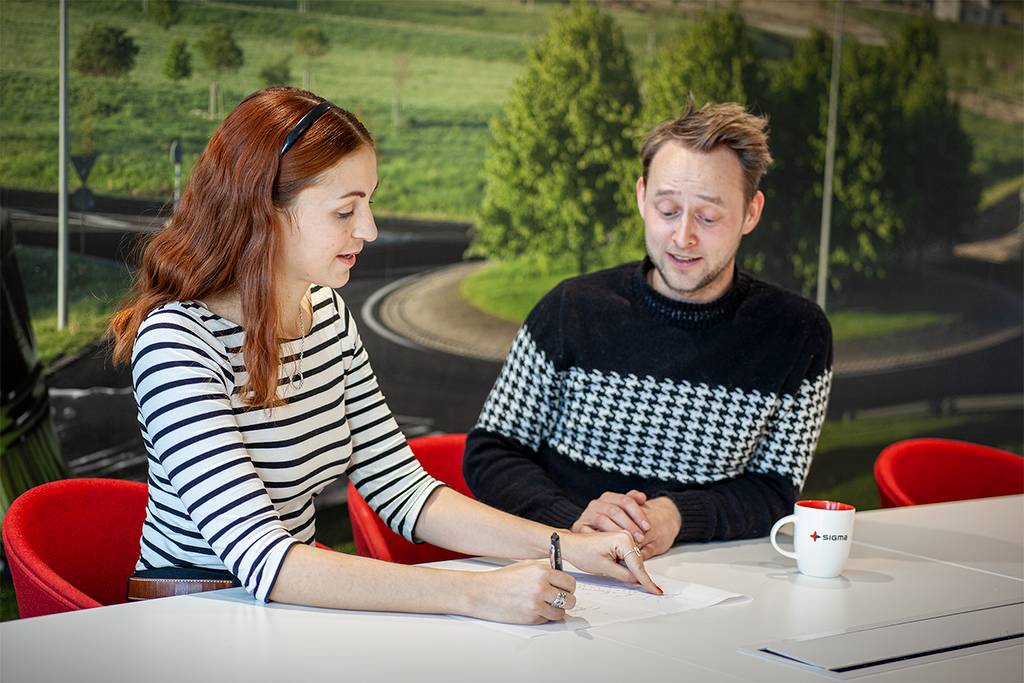 The person who is most fired up about large wooden buildings is Petra Videstorm. Petra works as a designer at Sigma Civil in Umeå, an office that is growing by the day and now has around 50 employees. We have a chat with Petra who, since graduating a few years ago, has worked almost exclusively on the dimensioning of wooden structures. During the past three years at Sigma, her focus has been on wood as a building material in larger constructions. "Climate issues and sustainability play a large role in my daily life and because I have chosen a profession that generates a product, I want to be able to take responsibility and be able to feel good about the materials we use," says Petra.
In addition to working as a designer in the Umeå office, Petra travels around the country and gives lectures. She does this together with Johan Ehle, head of environment at Sigma Civil in Stockholm. They want to inspire people to be more daring and think bigger when it comes to wood and also share their knowledge about the environmental benefits and other advantages of building with wood.
So what are the benefits then? "Well firstly, you should know that the carbon dioxide emissions connected to the production of wood as a building material are only 25% of those which occur when building concrete and steel structures," says Petra. This means that if you choose wood you can build four times as much with the same climate impact. In addition, wood is a renewable source which, through its life cycle, requires less energy to produce. There is also a long period in the life cycle of the timber where it actually binds carbon dioxide and, in that way, it compensates for many of the emissions we humans are accountable for. It's obvious that Petra is really enthusiastic about all the positive side effects wood has, not only for the environment and climate, but also due to the positive effects it has on us humans.
"There are several studies that show that people who live, work or study in wooden environments feel better, both mentally and physically, and it is likely that this is due to an improved indoor climate."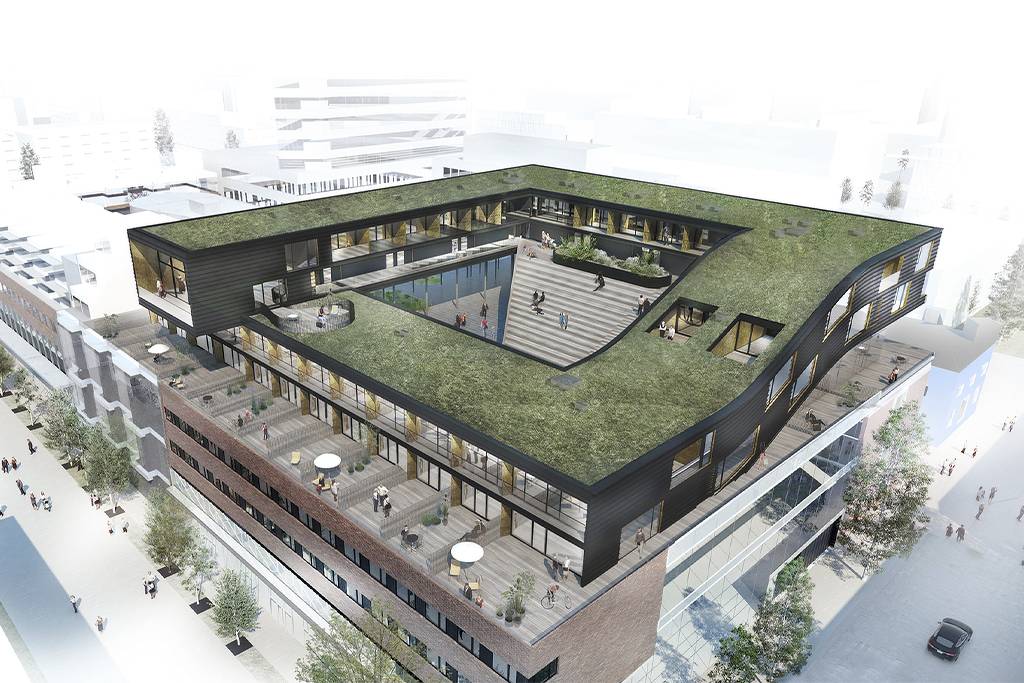 The latest projects that Petra has been responsible for are both examples of a clear trend in building communities, and that is the densification of cityscapes. Today, the central parts of cities are very densely populated and new buildings are often just an extension of an existing building, in order to be able to create new spaces for housing, offices etc.
"When it comes to solutions for building on top of existing constructions, wood offers many advantages and possibilities," says Petra. The Glitne housing project in central Umeå is an extension that is 25 meters above ground, extends over six buildings and is four floors high. It is the use of a construction based on cross-laminated timber that has made it possible to expand so extensively on top of an existing building. "By using new thinking and creativity, we were able to live up to all the building technology requirements, the many environmental benefits and the innovative architectural design," Petra explains. "The Glitne housing project stretched over two years and certain parts of it were quite complex. But all the experience we gained opens up new possibilities in wood construction. We brought with us a lot of experience when we took on the project Styrpinnen 15 on Näckströmsgatan near Kungsträdgården in Stockholm," says Petra. Even here, the wooden construction allowed the architects to utilise the area in the middle of the city in an optimal way. Instead of just one floor, they plan for three. The extension in cross-laminated timber and glulam had several advantages. The lower weight of the design, together with the high degree of prefabrication contributed, among other things, to speedier assembly. For the developer, it solved many of the logistical challenges that a large construction project in the centre of central Stockholm entails. "These projects are both very successful examples of how to carry out the densification of a city in a more environmentally friendly way and at the same time save time and money," says Petra.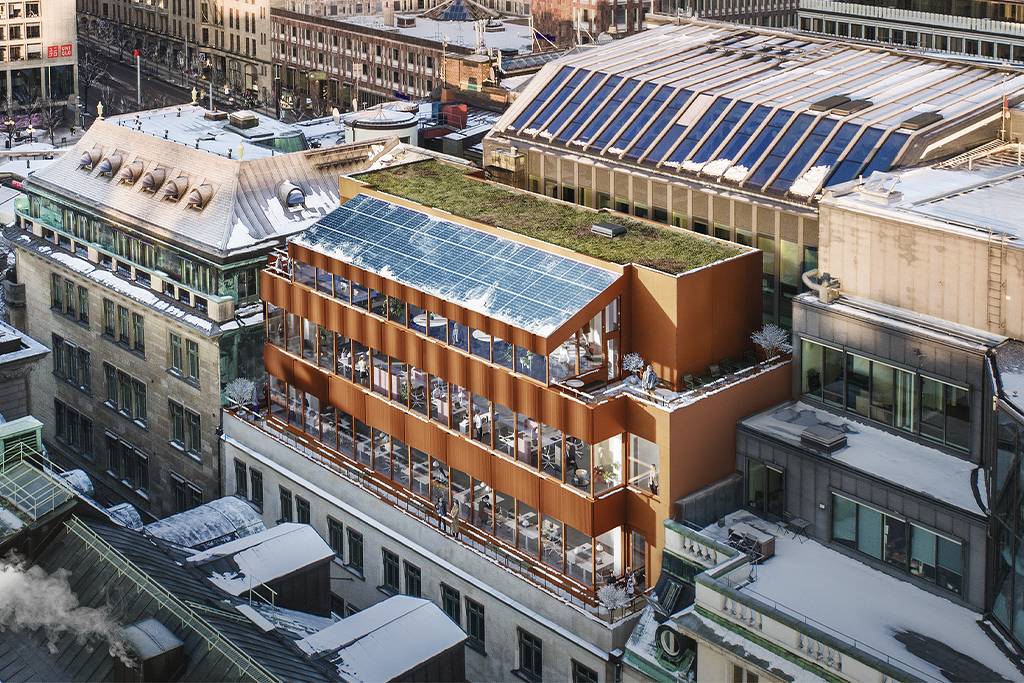 So what can be done to encourage contractors to build big with wood? "We just have to continue spreading our knowledge and sharing our experience with construction companies and architects," Petra responds.
"You can actually build most things with wood, it is really just about adapting the design to the situation."
Petra reckons that her passion for building sustainably in wood will gain more recognition when the stricter environmental requirements come into play in 2020. According to a 2016 survey, the construction sector accounts for as much as 20% of the total greenhouse gas emissions in Sweden. A fairly high figure, but one which indicates that this is a sector where restructuring and a greater focus on sustainable construction can produce major environmental benefits.
What is the industry most worried about when it comes to wooden structures?  "When I talk to different entrepreneurs, there are usually three factors they mention and are worried about: fire, moisture and sound," says Petra. "But these concerns about wood can be dispelled by   showing that we can resolve these problems," she continues. Fire and wood share a dramatic history, to say the least, but with modern techniques and fire protection solutions, it is possible to eliminate the fire risk, for instance by cladding the inside. But by increasing dimensions it is also possible to use the wood itself as part of the fire protection solution. "Fire risk is no longer a sustainable argument for not choosing wood," says Petra.
Another area that usually comes up is moisture, with the growth of mould on organic materials being a concern. Even though wood is an organic material this can be solved. "By bringing in cross-laminated timber boards with the right structure which makes them 'sluggish', you can use them as a steam brake in the outer walls and exclude plastic in the construction," says Petra.
Another concern about wooden structures is that of soundproofing. "Again, it all comes down to knowledge and the right construction. There are many products on the market today that have been adapted to eliminate the sound problem in wood structures," Petra continues.
As is usually the case, people's concerns subside when presented with genuine expertise and knowledge. When it comes to wood, we need enthusiasts like Petra to challenge some of the prejudices which exist, and this is exactly what she does when she is out lecturing on environmentally friendly construction and wood as a building material. In the lecture they talk about making more space in city centres by choosing to build with wood. They compare life cycle analyses for different materials and discuss logistics and assembly. "There are many aha experiences when we are out lecturing. Especially when we get to the subject of logistics and the fact that by using wood you can build so much more on the same area, as well as the fact that environmental gains also mean financial gains," Petra says.
We round off the conversation by asking what we do if we want to go to one of their lectures. "Just get in touch with me or Johan Ehle, and we'll let you know when and where our next lecture is," says Petra. So, if you want to know more about the possibilities of wood as a construction material then you are welcome to contact Sigma Civil in Umeå and they will help you to think BIG.

To read more about Sigma Civil and take part of current projects, sustainable construction, and much more, visit sigmacivil.se.