Towards greater accuracy in tomorrow's diagnoses
We continue to get to know our employees, our experts for a better tomorrow. Those who are passionate about constantly optimizing assignments, improving products and contributing to a better tomorrow. We're not going far geographically, but we take a big leap from electric cars to medical technology.
Our last expert for a better tomorrow was also based in Lund so we don't have to go very far, but when we meet Bethlehem (Betty) Araya at Sigma Connectivity's office, we are shifting focus from the efficient transport of large vehicles to miniscule components in the absolute forefront of the MedTech industry. Betty is an experienced engineer with a degree in engineering physics and technical physics; a university course she started only three years after moving to Sweden. Betty was born in Ethiopia and raised in Eritrea but when it was time to move on to higher education she returned to Ethiopia. After four years at the University of Addis Abeba Betty gained a bachelor's degree in Theoretical physics, before moving to Sweden. The first obstacle she encountered when moving to Sweden was of course the language; "But with my study experience, it didn't take too long. I learned the Swedish language and how it worked in five months... it took a little longer to learn to speak it," Betty says with a big smile. "Typical engineer," she adds and laughs. Although she was overqualified, she decided to study mathematics at Komvux, as a way of getting into and learning the Swedish terminology. She also took some other courses to learn better Swedish, including history. It was a good strategy and after another four years of university studies, she gained her master's degree from the University of Lund in 2000. "I could have gotten the credits from my bachelor education in Ethiopia as part of the education in Sweden but thought it would be better to do the full education of Engineering physics in Lund in order not to face any hurdles in finding a job in Sweden," says Betty.
Immediately after getting her master's Betty started at Wespot in Lund where her focus was on visualization, camera technology etc. A direction she never left. Even back then she had to work with electronics, surveillance cameras and other applications for healthcare. In other words, Betty has a solid background that makes her perfect for the role of line manager for MedTech at Sigma Connectivity. As for many others her journey to Sigma Connectivity went via Sony Ericsson and she gained a real dose of international experience when she was thrown in at the deep end and given the task of building a team and organizing their ODM department in Taipei. She was in Taipei for two years and when Sigma Connectivity bought Sony's business unit, Betty and her colleagues were all part of the deal. "It felt completely natural to continue in our well-knit team," says Betty.
"I think it's really exciting to be a consultant. To constantly meet new customers, new products and new challenges gives the work a whole new dimension."
Betty now had a new and exciting future ahead of her as a consultant, a role she enjoys. "I think it's really exciting to be a consultant. To constantly meet new customers, new products and new challenges gives the work a whole new dimension," Betty continues. She explains that in the role of consultant, she can take her experiences and successes with one client and apply them to another. "For each assignment, we get better and better and we are confident about what we take with us going forward. But we also know what we do not want to do again, and that experience is just as important," says Betty.
Today, Betty is line manager for the entire Sigma Connectivity MedTech unit. She is also the Team leader for the 'core team' that works exclusively with Ambu, which is their largest customer in MedTech. A core team is dedicated to one customer and works very closely with them, having weekly meetings. In addition to the daily tasks the team are proactive and always looking ahead and way past the challenges of the next day. "We have worked with Ambu for a long time now and have a very good collaboration. Our expertise was a very good complement to their experience in medical equipment and technology. We didn't know anything about endoscopy, and they didn't know much about electronics and camera technology," says Betty.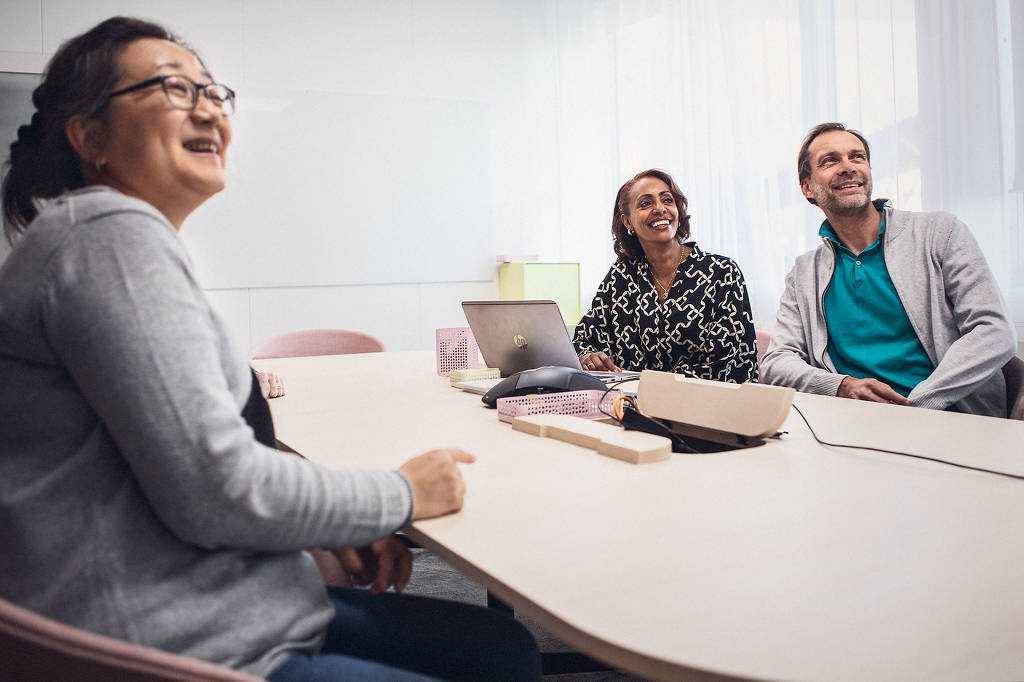 Together, they continuously strive for creating the market's most advanced disposable camera solutions. The benefits of this technology are enormous, partly in being able to give a more accurate diagnosis but also because it eliminates the risk of contamination during use. There is a widespread problem with disinfection of reusable equipment as, generally speaking, it is almost impossible to get it 100% sterile. "Disposable endoscopy solutions make a huge difference to patient safety and they also increase accessibility and thus the number of patients who benefit from it," Betty replies when asked about the benefits of this technology.
In addition to constantly improving the resolution of the camera, one of the challenges when manufacturing advanced disposable products is to minimize the environmental impact of the materials used and increase recycling opportunities. So, for Betty's core team the future is clear cut; it has to work towards better resolution and better optics that can provide superior image quality, but also towards making these cameras even smaller and more environmentally friendly. Even today the camera itself is not much bigger than a pinhead, but despite its small size, it can deliver a resolution of 400 x 400 pixels. "It is already quite small but, even so, I can see that there is potential for improvement," says Betty when she shows us the tiny camera.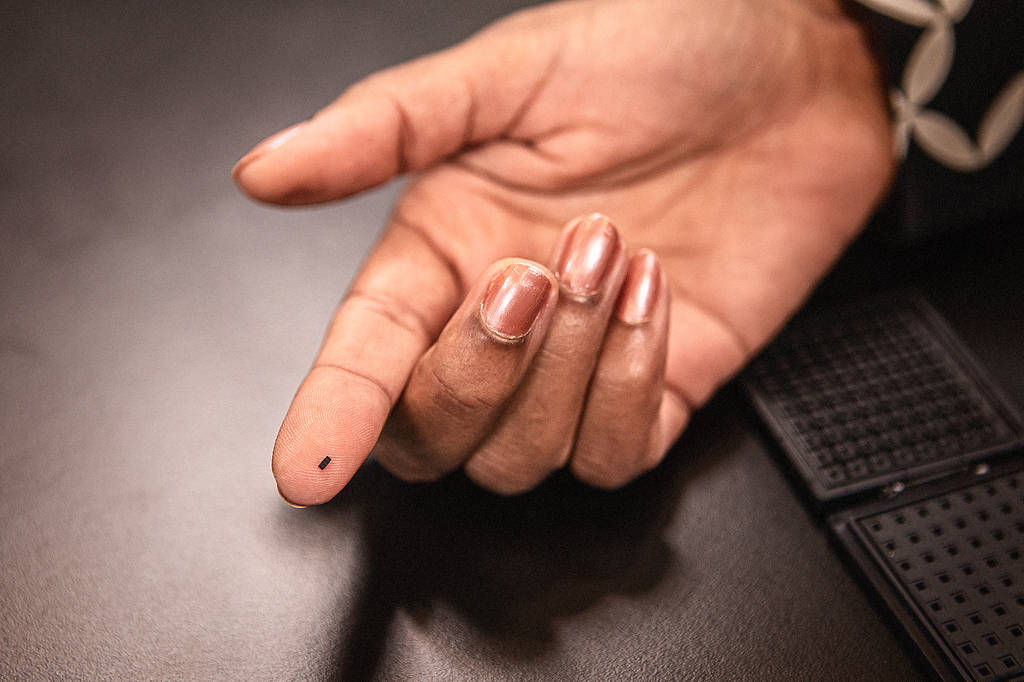 Betty is really passionate about her job and finds it inspiring to work with something that so clearly leads to a better tomorrow for our fellow humans. "I see it as a privilege to be able to work with MedTech and with assignments that mean better and safer healthcare, better diagnoses and greater accessibility for all patients," says Betty proudly. "And the advances we are making in camera technology today in this branch are guaranteed to come in handy elsewhere tomorrow," she continues.
All Sigma co-workers line up behind the promise to contribute to a better tomorrow. And according to Betty, her time working with mobile phones provided many lessons and experiences that makes it possible for her to keep that promise. "Ever since my first job and my first assignments after LTH, I have wanted to work with projects and products where my knowledge and skills can contribute to constant improvements for patients," says Betty. "Working with mobile phones may not have been my dream, but it is these years that have made it possible for me and my colleagues to contribute and make tomorrow better for many more patients," Betty continues with pride.
"…Working with smarter AI products and biometrics solutions that are capable of keeping patients' integrity intact is an exciting challenge. And if we solve the security and regulatory aspects of data collection, the possibilities are endless."
So what about the future? What are your dream assignments? "I am convinced that I have found my dream job and I am really looking forward to being able to continue to further develop our offer within MedTech. Working with smarter AI products and biometrics solutions that are capable of keeping patients' integrity intact is an exciting challenge. And if we solve the security and regulatory aspects of data collection, the possibilities are endless," says an enthusiastic Betty.
Sigma Connectivity's MedTech team is already at the forefront; the collaboration with Ambu is a clear example of that. However, they are not content to rest on their laurels, but are constantly aiming for new challenges. And, by doing this, they are contributing to even better, safer and more accessible equipment being made available to the healthcare sector. This, in turn, means improved conditions for patients.
"We are constantly on the move, because if we are to be able to offer even better solutions and products in the future, we have to start working on it today," says Betty when we round off our conversation about her, her job and her role as one of our experts for tomorrow.