Project Manager 4.0
We continue our journey through Sweden to various Sigma offices where we meet up with our employees, our experts for a better tomorrow. They may work on completely different things, but they all possess the drive and the passion that we so often encounter in our offices. Drive that we are not only proud to talk about but that we are eager to encourage, nurture, and keep alive.
This time our trip takes us to Blekinge, otherwise known as the Garden of Sweden, to meet Rebecca Sebernby at Sigma Technology's office in Karlshamn. Rebecca is a systems scientist who became a project manager, which is her title since 2019. Rebecca actually grew up in Karlshamn and, after some half-hearted attempts to leave the town, the sea and the archipelago, she's back where she thrives best. And she's definitely not complaining about having an office with a sea view. Rebecca graduated from Växjö University in 2005 with a bachelor's in systems design. And after having tried her hand at the large-scale printing industry at Strålfors in Ljungby, telecom companies in Ronneby and medical technology at Gambro in Lund, to name but a few, she started as a team leader and senior system developer at Sigma Technology in Karlskrona in 2017. Rebecca's first assignment at Sigma was for a leading Swedish telecom company, where she acted as product owner and agile team lead, an assignment that was one of the reasons why she chose Sigma, embracing the opportunity to work with big clients, advanced assignments and experience a code factory in multi format.
However, after almost 15 years as a system developer, it was time for new challenges and the role as project manager at Sigma Technology's office in Karlshamn felt exciting. Here they work in teams at the office, while maintaining close and regular contact with the client. "It is not at all uncommon for us to have the client join in on one of our daily 'Stand up' meetings," says Rebecca.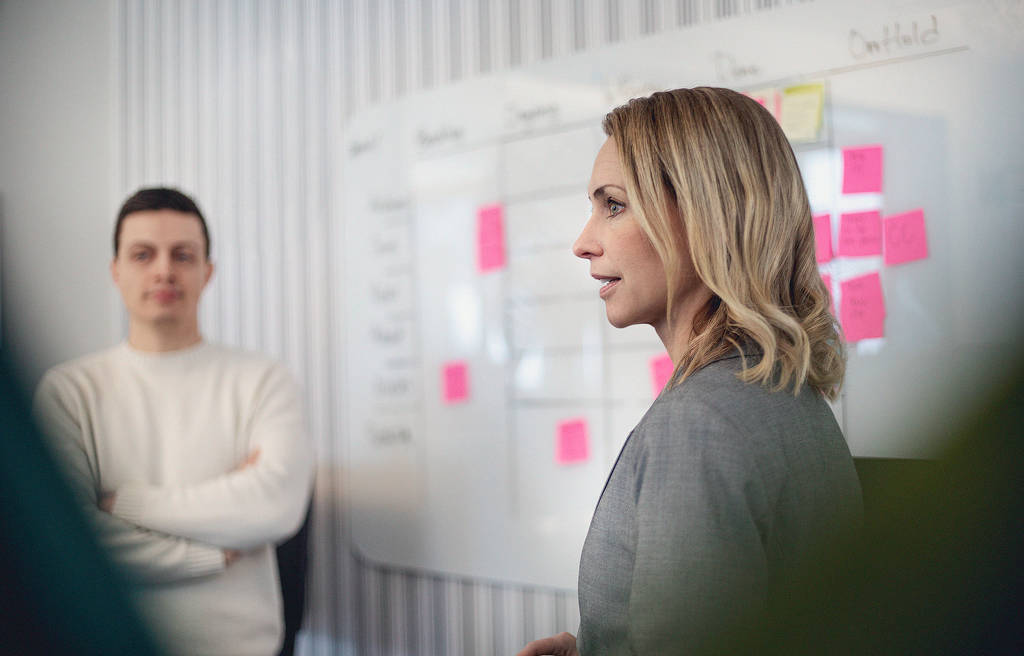 The role of project manager includes being part of several different development teams, all with a common focus. "We have noticed that one of the main things our clients need help with is to upgrade old platforms to more modern ones and at the same time streamline and digitise flows and processes," says Rebecca. Many companies urgently need a complete makeover when it comes to digitalisation, in order to remain competitive. "That is why our focus is on industry 4.0, where we can identify and apply technology that will help streamline flows and processes for our customers," she explains. The goal of Industry 4.0, the fourth industrial revolution, is the digitised and connected factory, the smart factory.
Much of Rebecca and her colleagues' work consists of improving, streamlining and future-proofing processes and system solutions. In some cases, this means recycling solutions, retaining the logic but elevating them to new modern technology and platforms at the same time as they open up with APIs to enable smooth integration. Another part of the job is to integrate and connect the machines, so that you can collect data in real time and thus have the opportunity to redirect the production process according to the needs that arise.
Rebecca talks about an ongoing assignment where they are building a platform, a HUB, which will connect the company with retailers and customers. And in the longer term, also connect customers' machines to the HUB where they will be able to see and analyze data in real time. "A vision for the future is that we will be able to anticipate service intervals and thus automate the flow of service measures that are assigned to the service technicians," says Rebecca.
"Working with such an experienced team where everyone has total know-how about the best way of doing something, how long it will take and what it will cost, gives me confidence that we will be able to deliver high quality solutions in all the assignments we carry out."
But for Rebecca and her various teams, digitisation processes are not the only focus. There will also be a lot of product development going on, which is a natural and logical step in a digital transition. "We have helped customers to renew their product with both new hardware and associated software applications," says Rebecca, referring to their ability to help clients with their product development. It also shows the positive effects a transition to 4.0 can have for a company. "Most of the people I have the pleasure of working with at the office all have between 15 and 20 years of professional experience, which means that there is a substantial bank of sound knowledge available for the various projects," says Rebecca. Her role as project manager means she is the connection between the clients and the development teams, with responsibility for documentation, reporting, stating requirements, quality assurance, budget and ensuring that time frames are followed. "Working with such an experienced team where everyone has total know-how about the best way of doing something, how long it will take and what it will cost, gives me confidence that we will be able to deliver high quality solutions in all the assignments we carry out," says Rebecca with a note of pride in her voice.
All major reorganisation entails a great deal of work in the initial stages. And digitisation is no exception. But once a system is connected, it is easy to integrate it into a larger context. "There are really no limits as to what we can do with a connected system, how well it can be optimised and what it can be developed into," says Rebecca, "but you have to do the work at the beginning of the project," she continues, "it's vital that analysis done in the early stages is done thoroughly and carefully."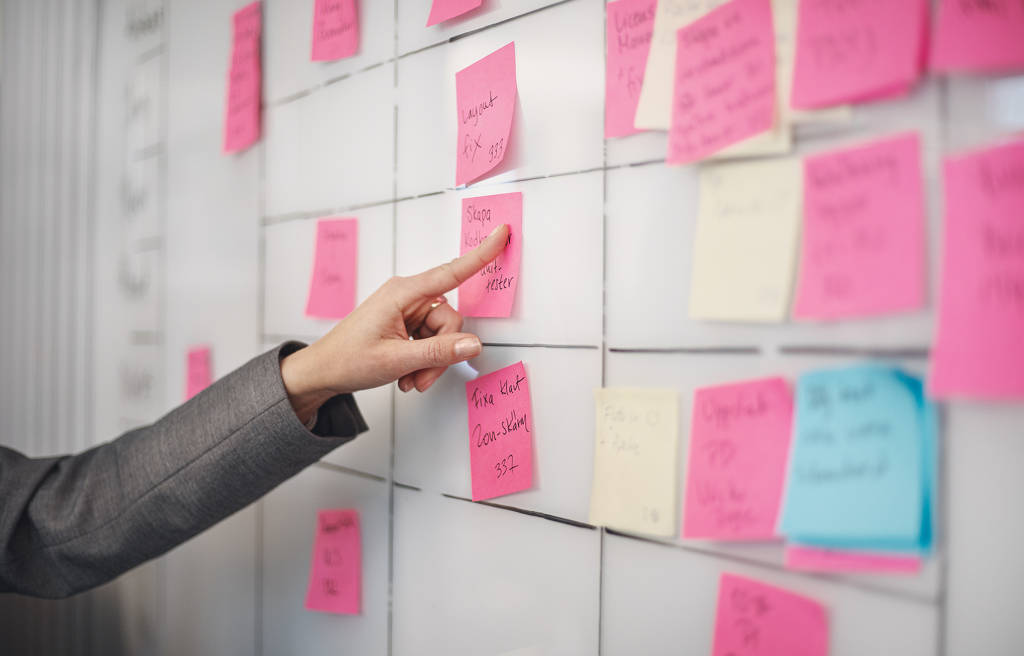 Digitisation brings enormous opportunities to develop new, smarter and more sustainable industry in Sweden. Being able to analyse and optimise processes, energy consumption and resources is the path towards sustainable industry. Digitalisation processes, the development of production technology and a higher degree of automation in the manufacturing industry, will result in wage costs becoming less significant. "The biggest advantage is that the smart factory will actually be cheaper and more efficient to run," Rebecca says. "Which in turn means that the Swedish manufacturing industry can bring home production and compete with the low-cost countries," she continues.
"I really enjoy working on these projects where we, as system developers, can contribute to and take greater responsibility for more efficient and cleaner manufacturing processes."
During the conversation the benefits of the smart factory become increasingly obvious; the factory that manufactures its products where the customer is located, also leaves a smaller carbon footprint behind. And wouldn't it been great to see Made in Sweden stamped on that classic product again? You know, the one that was once invented and designed somewhere in an innovative factory in Småland. But above all, it is the green aspect of industry 4.0 that is its most significant attribute. "Within our systems, we are able to see both the external and internal environment of the factory and can calculate and see all emissions and energy consumption in real time. This helps us identify energy thieves and reduce them," says Rebecca. By the work they are doing, Rebecca and her team are making a significant contribution to a better tomorrow – one in which the factory, which has until now has been the symbol for bad environmental practice, might well become a new symbol. A symbol of optimisation and purity. "I really enjoy working on these projects where we, as system developers, can contribute to and take greater responsibility for more efficient and cleaner manufacturing processes," says Rebecca.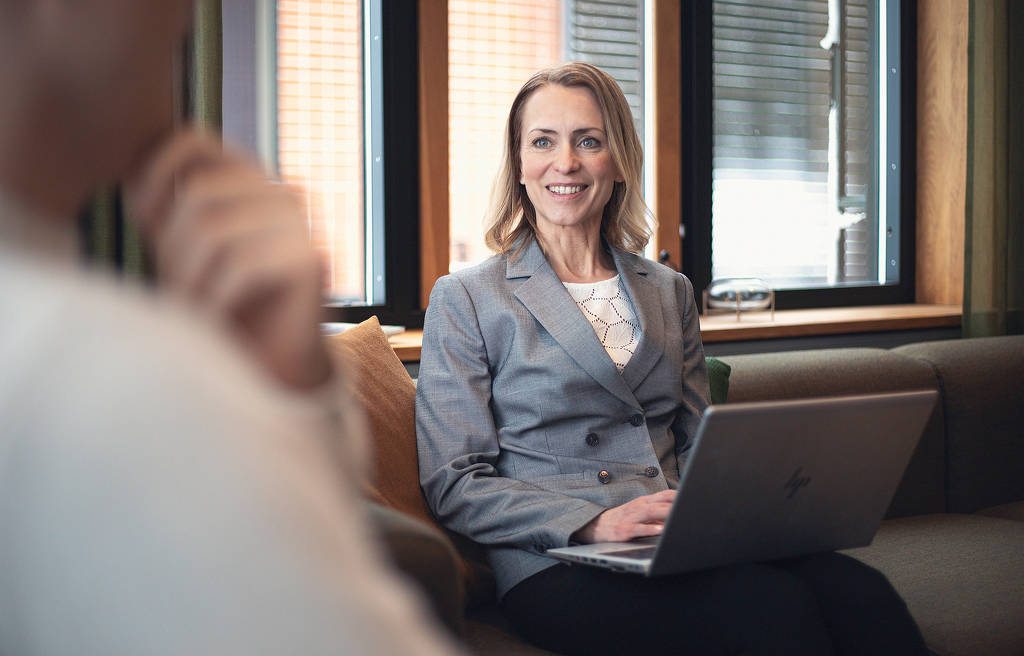 It seems that Rebecca has found the right job and the right assignment because when we ask about future dream assignments, the ones she mentions are very similar to the ones she is working on at the moment. "I really like working on an undertaking from start to finish, and sketching out solutions together with the customer, who is then able to go away and start using the very latest technology," Rebecca explains, when asked what her dream job would be. "I am also curious to investigate and develop new business models which are linked to industry 4.0, and also connected to the latest technology and be able to make them relevant to our customers," she continues. Smart connected products are equipped with sensors and built-in systems. In turn, these products generate many different forms of data that have massive potential for use in product development and to be transformed into new smart services. Rapid efficient data analysis might come to be of major significance in the future and play an important role in the industry's business models.
It's obvious that Rebecca and her team at Sigma Technology in Karlshamn have a fervent desire to create the solutions that contribute to more efficient industry and smarter factories. The level of competence and experience is solid, and all the team players are put to optimum use by a driven project manager. A project manager 4.0.