Sharing knowledge and inspiration for a better tomorrow
In our series where we get to know our experts for a better tomorrow it is time for us to leave Sweden and travel eastwards. We are heading for Ukraine where we want to meet and get to know more about how one of our experts for a better tomorrow is taking on everyday challenges here. What is it like to work for a Swedish company in Ukraine that is helping clients with their next level digital products and software development?
It is the second year of a global pandemic and, as you know, travelling nowadays is often equal to joining a Teams-meeting. So instead of going all the way to Kharkiv, Ukraine, we open the laptop and say hi to Anna Boiko. Anna graduated from the Mechanical Mathematical faculty of Kharkiv National University, with a major in Information Technology. She also has a second degree in English from the Pedagogical University of Kharkiv. Despite her young age, Anna has worked as an Account Manager as well as a Project Manager for over 13 years. "During the past year, besides being an account manager for our largest client, I took on the role of working with our partner products, so I now have the position of Programme Manager and Director of Partner Products at Sigma Software," says Anna on her current line of work.
When Anna was studying at the pedagogical university, she realized that educating other people, sharing knowledge and experience was something she liked and was good at. "Both my parents are teachers and although I didn't have a goal of becoming a teacher, it was not for me, I still wanted to be a mentor for people," says Anna about sharing knowledge and inspiring others. When Anna started working and had gained more experience, she soon became actively involved in educational programmes and internships. "I have been a mentor for quite a lot of project managers and it's very rewarding to see these people become competent professionals in their field," says Anna.
Anna is a very enthusiastic person with a lot of energy and drive. Motivating and empowering co-workers are two of Anna's characteristics as a leader. And she has always taken the lead in situations or groups. Even as a young student she arranged several trips abroad for her fellow students and she was also a team leader at a kid's summer camp. "I really love motivating people and I love to be an active member of a team, working together and building something great," says Anna. Anna likes the responsibility that comes with leadership, and she believes that project managers as well as account managers should take on a leadership role when working with a team and motivate the team to do something great.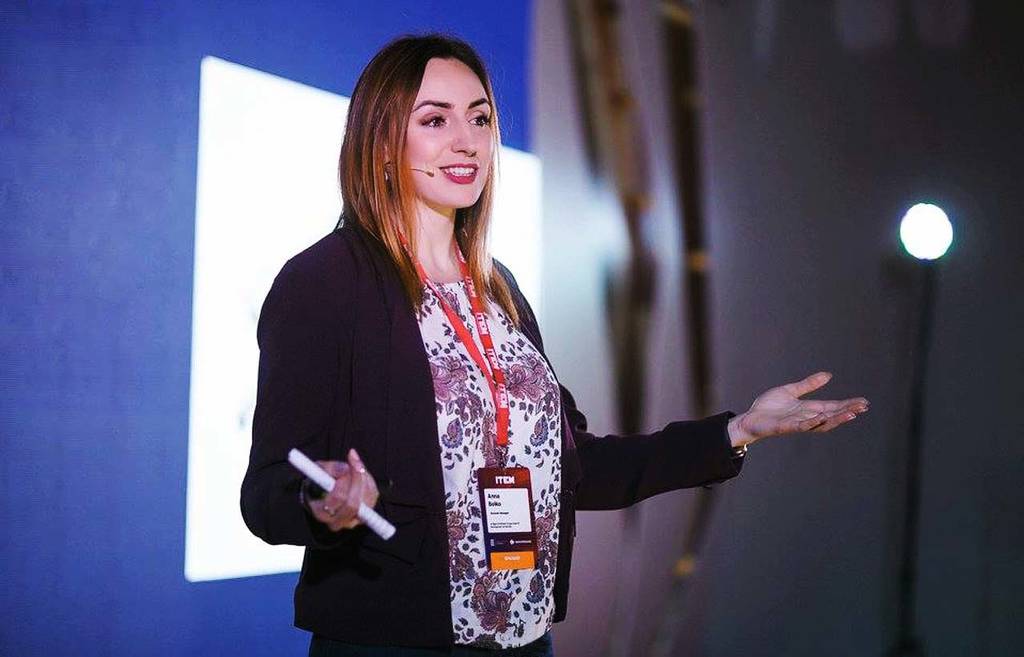 Anna started working at Sigma Software in 2014 after the start-up that she was working for never really took off. "It was actually not a bad idea, but the investors didn't stick to their commitments, and we ran out of money before we could make it fly on its own," says Anna about going from a small employer to a large and established one. Anna felt a strong attraction to Sigma for its stability and their very good reputation on the Ukrainian job market. "Apart from this, I really liked the spirit of the company and that the company was result oriented, and not bureaucratic. I also liked that the company supported creativity and didn't micromanage exactly how to get your job done," says Anna about the things that made Sigma her first choice.
"I really love motivating people and I love to be an active member of a team, working together and building something great."
Five years ago, Anna started working as a project manager for a group of five in an exciting project for DanAds which took off right away and just kept on going and growing. They soon needed more developers and project managers to handle all the incoming requests for the ever-growing account. Once the project group had more people onboard, Anna could take on the role of account manager, and after that she became programme manager. Under her management the account grew even more, and they are now over 100 people working with DanAds.
Their product is a white-label, self-service advertising platform. The platform is used by several world leading media brands, such as Bloomberg Media, Hearst Magazines, NewsCorp, Expedia and TripAdvisor just to mention a few. Like the travel industry where you buy your airline ticket online, buying advertising space in media is now something you can also do online without having to involve a media agent. "Self Service technology lets us save time and effort, but also allows for transparency and control. The more real persons that are involved in the processes – the higher the the risk for human error. With the right technology and UX in Self Service Platforms, those risks are eliminated," says Anna about the benefits of this technology. "We have a tight relationship, and we work closely together with DanAds and I'm very proud to be involved in their business and to be programme manager for this account," says Anna on their successful cooperation with DanAds.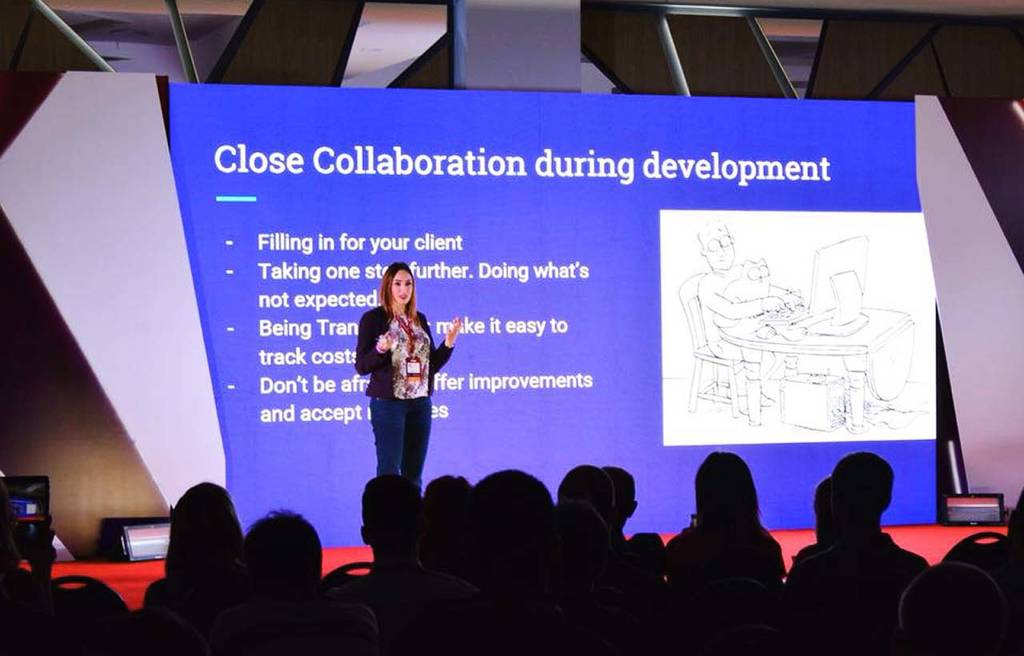 To Anna, the end goal of any technology, is to make our lives easier and better, so that we, as humans, can concentrate more on the things that matter, like spending time with family and friends, being creative, staying healthy and pursuing dreams and goals. "Technology should take care of things that consume our time, but don't bring us happiness," says Anna. Right now, in Ukraine there is a big focus on digitalisation, not only for companies and corporations but also from governmental institutions. Anna has recent experience of this as she had a baby four months ago. She tells us about the new, faster process of getting a birth certificate for your child, which used to be a bureaucratic and tedious procedure. "Before you had to go a special government institute, stand in long queue, fill in the forms manually and come back another day to pick it up. Time would be spent on going to the city centre, getting stuck in traffic, finding a parking space, waiting in queues, etc. Imagine doing this when you have a new-born baby with you! Now you can just do this online in the comfort of your own home," says Anna on how technology, in a very concrete way, can make a better tomorrow for people. "I think that Sigma provides a great variety of career opportunities and ways to grow as a professional. Our company is constantly growing, and you grow with it. Being able to take on new challenges, test innovative ideas and having a very warm and cooperative team is in Sigma's DNA, which I believe is the essence for a better tomorrow," says Anna when asked about what Expect A Better Tomorrow means to her.
"I think that Sigma provides a great variety of career opportunities and ways to grow as a professional. Our company is constantly growing, and you grow with it."
Being director of partner products at Sigma Software, Anna is connecting the network of clients with representatives of different partner products. Suggesting and using well known quality partner products, that we have worked with previously and whose systems we know very well, allows us to deliver faster and greater results for the clients, optimise development efforts, and shorten time to market. There are already a number of good digital solutions and systems on the market. For Anna and her fellow experts for a better tomorrow, the everyday challenge right now is to connect these systems, making them work together for a different purpose. "It is a bit like recycling, you know. There is no sense in trying to develop something from scratch that does the same thing that a lot of other systems do already. Instead, it's important to find ways to re-use existing technology, combining it with creative know-how and new user experience," says Anna when asked about the near future trends in partner products. 
Making these connections between systems and digital solutions made by the companies in their network of clients and partners is what Anna is looking forward to doing more of in the future. Taking well established knowledge and competence and combining them to produce new solutions, thereby creating an even better tomorrow than when they were first developed and launched.